PT Heat Exchangers Indonesia is a wholly owned company of the KNM Group based in Batam, Indonesia. Established in 1994, HEI specializes in the design and manufacture of pressure vessels, shell & tube heat exchangers, process skid packages, piping systems and other specialized fabricated equipment for the oil and gas, petrochemical and general industries. Since its establishment, HEI has fabricated over 5,000 units of equipment for various customers in Indonesia, Singapore, Malaysia, the Middle East and Australia.


PT KPE is strategically located in the Kabil Industrial Estate in Batam Island of Indonesia, in close proximity to Singapore and within major international shipping routes. Its main activity is to manufacture process equipment for the oil, gas, petrochemicals, minerals processing, power and general industries in Indonesia and the region. This 82,000 m² plant is well equipped and comes with 2 large fabrication bays and outdoor facilities that have access to deep seaport to enable large and heavy load-outs. The facility is also manned by competent and experienced personnel conforming to safety standards and international codes requirements.

Complementing the group's operations, PT KPE en-compasses a wide range of activities such as design and manufacturing of pressure vessels, heat transfer equipment, process skid packages, piping systems and other specialized fabricated equipments used in various industries. To complement the services, the Company provides after-sales support such as maintenance, breakdown repair services, refurbishment and spare parts provision. Going forward, PT KPE will continue to enhance its capabilities in the domestic and regional markets.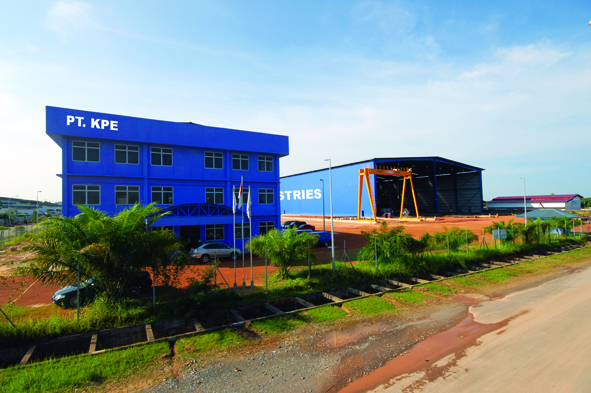 Kawasan Industri Terpadu Kabil (KITK), Jl. Hang Kesturi I Kav. A21,
Kelurahan Batu Besar, Kecamatan Nongsa, Batam 29467 Indonesia.

Tel +62.778.711.610
Fax +62.778.711.620
Email sales@knm-group.com
Website www.heibatam.com





...

...