HEA Australia Pty Ltd is based in Perth, Western Australia and is a wholly owned company of the KNM Group. The HEA range of products includes air cooled heat exchangers, shell & tube heat exchangers, pressure vessels and tanks. The Company can supply equipment in carbon steel, stainless steel and alloy materials. The products largely targets the oil and gas, power generation and mining industries. HEA's air cooled heat exchangers are well known throughout Australia and have been installed in many parts of the country. Today, being part of the KNM Group enables HEA to further enhance its cost effectiveness in the supply of air cooled heat exchangers whereby her sister company, FBM Hudson Italiana designs the units and supplies header boxes whilst HEA manufactures the finned tubes and structural support and provides local project management.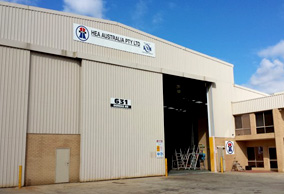 17, Casella Place, Kewdale 6105, WA Australia







Tel

+61.0.8.9352.2333


Fax

+61.0.8.9353.2477


Email

heaknm@heaknm.com.au



.
.
.